Sketching
Sketching -A sketch is a rapidly executed freehand drawing that is not usually intended as a finished work. Sketches can be made in any drawing medium.The term is most often applied to graphic work executed in a dry media such as silver point, graphite, pencil, charcoal or pastel. But it may also apply to drawings executed in pen and ink, ballpoint pen, water colour and oil paint.The latter two are generally referred to as "water colour sketches" and "oil sketches".
Commercial Arts
Commercial art is the art of creative services, referring to art created for commercial purposes, primarily advertising. The term has become increasingly anachronistic in favor of more contemporary terms such as graphic design and advertising art. Commercial art traditionally includes designing books, advertisements of different products, signs, posters, and other displays to promote sale or acceptance of products, services, or ideas.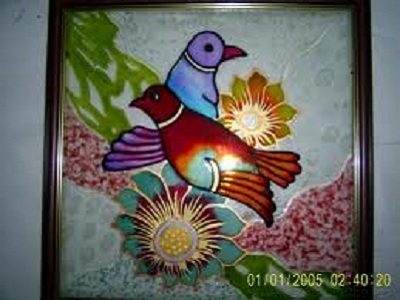 Glass Painting
Glass is so beautiful! Paintings too are eyes' delight! When glass and paints are combined, they create amazing works of art. The art of glass painting is becoming popular, especially with those who want to decorate their homes with an artistic touch. In fact, it is not very tough to do. You can create a beautiful painting in a day. All you need to do glass painting is a little imagination and patience along with, of course, certain things like a clean piece of glass
Oil Painting
Oil painting is the process of painting with pigments that are bound with a medium of drying oil. Commonly used drying oils include linseed oil, poppyseed oil, walnut oil, and safflower oil.The oil may be boiled with a resin, such as pine resin or frankincense to create a varnish; often prized for its body and gloss. Different oils confer various properties to the oil paint, such as less yellowing or different drying times. Certain differences are also visible in the sheen of the paints depending on the oil.
About Water Color
Watercolor, also aquarelle from French, is a painting method. A watercolor is the medium or the resulting artwork in which the paints are made of pigments suspended in a water-soluble vehicle. The traditional and most common support for watercolor paintings is paper; other supports include papyrus, bark papers, plastics, vellum or leather, fabric, wood, and canvas. Watercolors are usually transparent, and appear luminous because the pigments are laid down in a relatively pure form with few fillers obscuring the pigment colors.
Pot Decoration
The Pot Decoration is a pottery type associated with the Greek Dark Ages. After the collapse of the Mycenaean-Minoan Palace culture and the ensuing Greek Dark Ages, the Pot Decoration emerged around the mid 11th century BCE as the first expression of a reviving civilization. Following on from the development of a faster potter's wheel, vases of this period are markedly more technically accomplished than earlier Dark Age examples.
Gift Packaging
Life is all about making the right choices and Gift Packaging is all about wrapping your token of love beautifully be it Birthdays or Anniversaries! Don't just give a gift, give a remarkable one that encompasses your true feelings. With the changing time not just gifting, the way gifts are packed plays a very important role in strengthening relationships.
Handil Craft
A handicraft, sometimes more precisely expressed as artisanal handicraft, is any of a wide variety of types of work where useful and decorative objects are made completely by hand or by using only simple tools. It is a traditional main sector of craft, and applies to a wide range of creative and design activities that are related to making things with one's hands and skill, including work with textiles, moldable and rigid materials, paper, plant fibers, etc.Usually the term is applied to traditional techniques of creating items. Collective terms for handicrafts include artisanry, handicrafting, crafting, and handicraftsmanship.
Rangoli
Rangoli, also known as kolam or muggu is a folk art from India. Rangoli is a decorative design made in living rooms and courtyard floors during Hindu festivals typically consisting of bright colors. They are meant to be sacred welcoming areas for the Hindu deities.The ancient symbols have been passed down through the ages, from each generation to the next, keeping both the art form and the tradition alive. The patterns are typically created with materials including colored rice, dry flour, (colored) sand or even flower petals.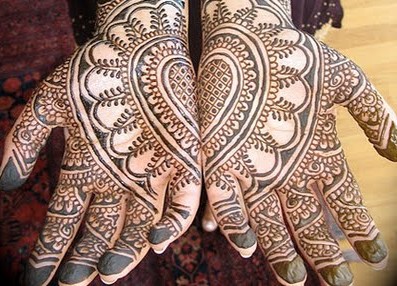 Mehndi
Mehndi or Henna is derived from the Sanskrit word mendhikā. The use of mehndi and turmeric is described in the earliest Hindu Vedic ritual books. Haldi (staining oneself with turmeric paste) as well as mehndi are Vedic customs, intended to be a symbolic representation of the outer and the inner sun. Vedic customs are centered around the idea of "awakening the inner light". Traditional Indian designs are of representations of the sun on the palm, which, in this context, is intended to represent the hands and feet. 
Ceremic Work
In art history, ceramics and ceramic art mean art objects such as figures, tiles, and tableware made from clay and other raw materials by the process of pottery. Some ceramic products are regarded as fine art, while others are regarded as decorative, industrial or applied art objects, or as artifacts in archaeology. They may be made by one individual or in a factory where a group of people design, make and decorate the ware. Decorative ceramics are sometimes called "art " . 
Greeting Card
A greeting card is an illustrated, folded card featuring an expression of friendship or other sentiment. Although greeting cards are usually given on special occasions such as birthdays, Christmas or other holidays, they are also sent to convey thanks or express other feeling. Greeting cards, usually packaged with an envelope, come in a variety of styles.
Kangra Painting
Kangra painting is the pictorial art of Kangra, named after Kangra, Himachal Pradesh, a former princely state, which patronized the art. Though the main centre of Kangra paintings are Guler, Basohli, Chamba, Nurpur, Bilaspur and Kangra. Later on this style also reached Mandi, Suket, Kulu, Arki, Nalagarh and Tehri Garhwal (represented by Mola Ram), and now are collectively known as Pahari painting. 
Tanjore Painting
Tanjore painting is a major form of classical South Indian painting from the town of Thanjavur in Tamil Nadu, India. Tanjore paintings are known for their surface richness, vivid colors, compact composition and especially the glittering gold foils used to give the paintings their rich look. Essentially serving as devotional icons, the subjects of most paintings are Hindu gods, goddesses, and saints. Episodes from Hindu tradition are drawn upon as elaborations of the main figure or figures placed in the central section of the picture.
Mural Arts
A mural is any piece of artwork painted or applied directly on a wall, ceiling or other large permanent surface. A particularly distinguishing characteristic of mural painting is that the architectural elements of the given space are harmoniously incorporated into the picture.Some wall paintings are painted on large canvases, which are then attached to the wall.
Calligraphy
Calligraphy is a type of visual art related to writing. It is the design and execution of lettering with a broad tip instrument or brush in one stroke (as opposed to built up lettering, in which the letters are drawn.) . A contemporary definition of calligraphic practice is "the art of giving form to signs in an expressive, harmonious and skillful manner" . The story of writing is one of aesthetic evolution framed within the technical skills, transmission speed(s) and material limitations of a person, time and place . A style of writing is described as a script, hand or alphabet .
OrrisaArts
The history of painting in Odisha dated back to ancient times with rock-shelter paintings, some which are dated to the early historic period (300BC-100AD). Apart from the rock painting sites there are several drawings and etching resembling figures on rock surfaces at Digapahandi and Berhampur in Ganjam district and other places. Many of the cave paintings are tribal and rock shelter painting has continued through the centuries as an Oriya tradition. They are often of a decorative nature mixed with rituals and may contain several motifs.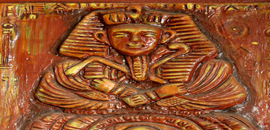 Egyptian Arts
Ancient Egyptian art is the painting, sculpture, architecture and other arts produced by the civilization of Ancient Egypt in the lower Nile Valley. Ancient Egyptian art reached a high level in painting and sculpture, and was both highly stylized and symbolic. Much of the surviving art comes from tombs and monuments and thus there is an emphasis on life after death and the preservation of knowledge of the past.